Directions
The Farm to School Workshop, and the Networking Mixer that follows, are held on the college campus of SUNY Cobleskill, in Cobleskill NY. The workshops are in Wheeler Hall while the lunch and the networking buyer-seller mixer that follows the workshop, are held in Champlain Hall, 2nd Floor.
Parking is available in Parking Lot  behind Champlain Hall (which, when parking there, also allow you to be closer to your vehicle upon departing the networking mixer, please see the map below).
There is some walking required outside between buildings and you are advised to dress as the weather dictates. You are asked to park in F-Lot behind Champlin Hall unless you will need to use your car to go to back and forth to the lunch and to the Mixer. Those needing their car can park in one of the few parking spots on the side of Wheeler Hall.  All the buildings are handicap accessible and have elevators. If you require further assistance, please call the Cornell Cooperative Extension's Cobleskill, NY office at 518-234-4303.
Please dress as the weather dictates for walking to and from the two buildings. If preferred and/or necessary, there is parking available near Wheeler Hall.  Should there be difficulty posed with walking in order to access the lunch, or joining us in the networking mixer after the workshop sessions, you may move your car back and forth between parking lots. Alternatively, call the Extension Office in Cobleskill for other arrangements: 518-234-4303.
Parking and Entrance locations
There is ample parking available.  Below we have a map of the available parking and the entrance locations.  As well, below that, there is a pdf version of the map for your convenience.   As always, if you require further assistance, please call the Cornell Cooperative Extension's Cobleskill, NY office at 518-234-4303.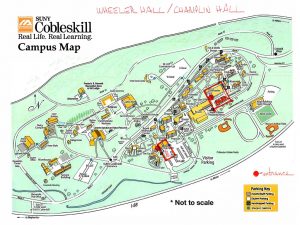 Download a pdf version of the map here.
Hotel Options Nearby
It's the tail end of the holiday vacation period but who says you have to go right back home! Spend a little time in 'picture perfect Schoharie County" or in a neighboring county… the day before your conference… or on Friday, the day after! Or, bring the spouse and the kids, and let them explore while you're in conference. Suggestions here for where to stay…  and below that, ideas for where to visit. Believe us when we say we are proud of our area of New York State, and so thrilled to share it with you!
Cobleskill, NY:
Rodeway Inn & Suites Cobleskill                                                  
Schoharie, NY:
Quality Inn & Suites Schoharie
Cooperstown, NY:
Comfort Inn & Suites Milford/Cooperstown
Stamford Gables Bed and Breakfast
The White House Inn
Johnstown, NY
Microtel Inn & Suites by Wyndham
Albany, NY
Hilton Garden Inn Albany-SUNY Area
Hampton Inn & Suites Albany-Downtown
Hotel Indigo Albany-Latham
Hampton Inn Albany-Western Ave/University Area
Staybridge Suites Albany Wolf Rd-Colonie Area
Courtyard Albany-Thruway
Home2 Suites by Hilton Albany Airport/Wolf Road
Saratoga Springs, NY
Embassy Suites Saratoga Springs
Holiday Inn Saratoga Springs
Pavilion Grand Hotel
"To Do" Nearby!
Schoharie County… including caverns and museums, places to hike and places to eat… and featuring up and coming distilleries and breweries nearby!
Albany County… The seat of State government as the Capital, watch a legislative session or visit the NYS Museums of History or Art, go see a play, or just shop at one of the many shopping malls!
Cooperstown in Otesgo County… Sitting along Otsego Lake is the home of the Baseball Museum, the Fenimore Art Museum, the Farmers' Museum and the Ommegang Brewery.
Need we say more?
Thisiscooperstown.com/attractions
Saratoga Springs… Known as the Spa City! Find out why… Discoversaratoga.org